About Quipu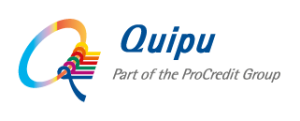 Quipu is an IT consultancy and software development company which provides comprehensive end-to-end solutions for banks and financial institutions, from electronic payments to software systems. Quipu is a 100% subsidiary of ProCredit Holding, and plays a central role for the ProCredit group, providing dedicated support services.
Headquartered in Frankfurt, Germany, Quipu currently operates from eight regional offices around the world, enabling it to promptly address the needs of a global customer base. Quipu has over 35 years of experience in developing software applications, tools and other services to provide optimal technical support to financial institutions, and it provides effective software solutions in a swift and efficient manner geared towards the particular needs of our clients, our way of doing business and our countries of operation.
Working with Quipu?
Quipu is an international company in every sense of the word, with operations in Latin America, Africa and South Eastern Europe. Its international character is also reflected in its staff, who represent 34 different nationalities.
Project implementation plans are designed in close consultation with the ProCredit banks. Built on the principles of transparency and realistic estimates, the plans outline each step in the process and define accurate deadlines.
Quipu professionals understand how technology can be used to create highly differentiated solutions that enable the banks and their customers to innovate and grow. All solutions provided by Quipu are scalable and flexible.
Security is a primary concern for Quipu. Considerable efforts have been made and significant resources have been invested in the development of activities and procedures to ensure the security and reliability of information, as well as to guarantee the confidentiality, integrity and availability of data.
Services
Quipu's services are provided by three main organisational lines – banking software, card payment services (processing and personalisation) and the cloud and infrastructure area.
For further details please refer to www.quipu.de.
Quipu Head Office - Germany
Steubenhouse
Königsberger Straße 1
60487 Frankfurt am Main
tel.: +49 69 50 69 90 – 0
fax: +49 69 50 69 90 – 220
e-mail: quipu@quipugmbh.com
web: www.quipu.de
Quipu Processing Centre - Germany
Steubenhouse
Königsberger Straße 1
60487 Frankfurt am Main
tel.: +49 69 50 69 90 – 0
fax: +49 69 50 69 90 – 220
e-mail: quipu@quipugmbh.com
Quipu Personalisation Centre - Kosovo
Rexhep Mala 16
10000 Prishtina
tel.: +381 38 246 010
fax: +381 38 246 010
IP-tel.: +49 69 50 69 90 – 151
e-mail: infoquipushpk@quipugmbh.com