Our environmental management approach and results
Pillar I: Internal environmental management system
The ProCredit institutions continuously monitor their own energy and resource consumption, with the aim of identifying opportunities to reduce our environmental impact and developing appropriate measures.
These measures are implemented throughout the group and form part of the standards followed in all our premises. We apply environmental criteria and energy efficiency measures when designing or renovating our premises, including the purchase of office equipment, as well as in the procurement process and in the selection of suppliers in general. We also invest in technologies that use renewable energy sources and other state-of-the-art measures; in some of our premises we have even achieved passive levels of energy consumption.
Key environmental indicators of the ProCredit group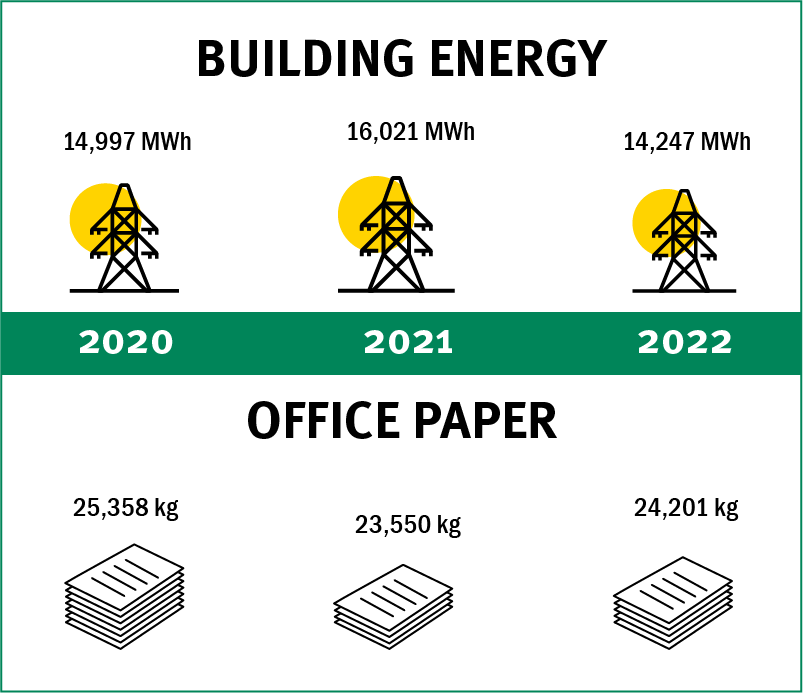 Scope 1 and 2 emissions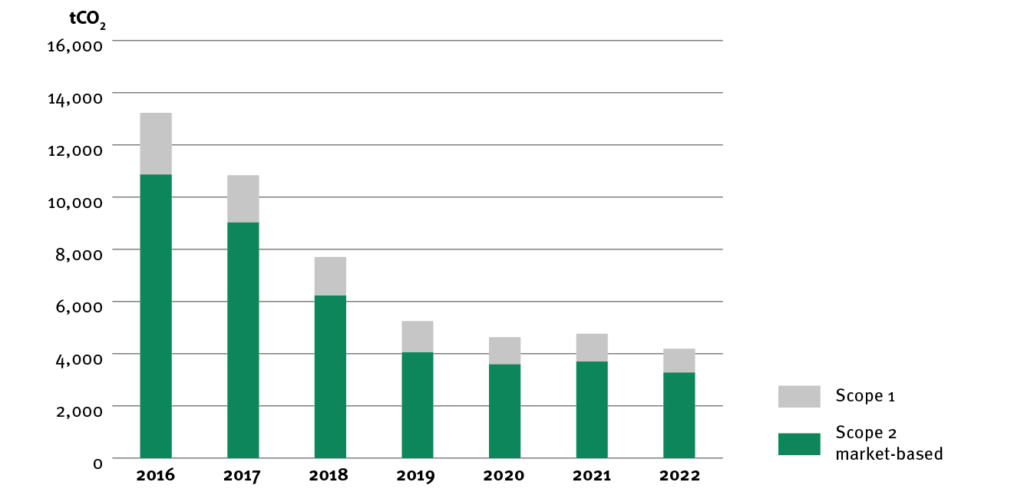 Note: The presented data pertain to the ProCredit group as a whole.

Pillar II: Management of environmental and social risk in lending
Apart from our direct impact, we also influence the environment indirectly – by proactively choosing to finance certain types of investments and refusing to finance others. We are committed to financing environmentally and socially sound projects and work only with businesses that comply with environmental regulations and which do not endanger the health, safety or well-being of their staff or neighbours.
We ensure this by taking the following steps, which are part of our approach to managing the environmental and social risk in lending:
filtering out and rejecting loan applications that are harmful to the environment and/or are on our exclusion list
assessing and monitoring the environmental and social risk of all business clients
commitment to measuring and disclosing greenhouse emissions and assessing climate risk associated with our portfolio of loans and investments in accordance with PCAF (Partnership for Carbon Accounting Financials) standards
incentivising improvements to our clients' activities in order to reduce the environmental impact
Group-wide E&S risk assessment process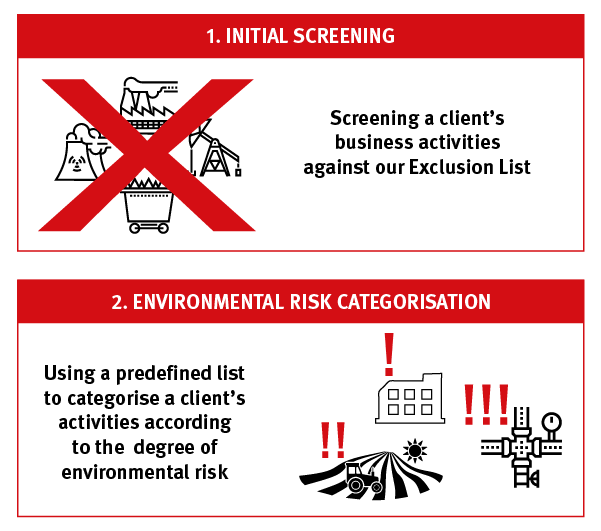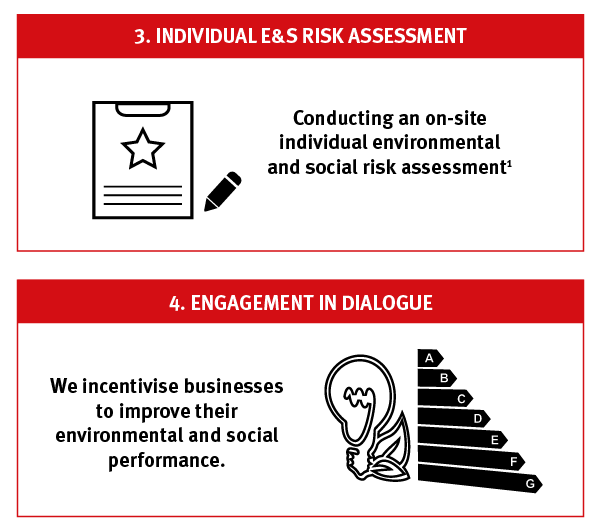 (1) An on-site visit is mandatory for any legal entity financed with an exposure above EUR 750,000 whose economic activity is assessed as posing a high level of environmental risk.
However, we do not simply refuse to do business with companies because they do not score well with regard to certain criteria. Rather, we engage our clients in dialogue to discuss how our services can help to improve their environmental and social performance in an economically sound way. From the clients' point of view, managing environmental risks might not only bring their company in line with more demanding regulations, but might also reduce costs and even create additional business opportunities.
Pillar III: Green finance
We offer specialised green loans to promote investments in energy efficiency, renewable energy and environmental protection.
ProCredit group green loan portfolio development
Note: Continuing operations as of 31 December 2022
The clients we target include private individuals seeking to improve energy efficiency in their households as well as businesses aiming to reduce energy consumption and their impact on the environment. By investing in environmental protection measures, modern machinery and energy efficient business premises, our clients can gain a competitive advantage in their markets.
Green loan portfolio by investment type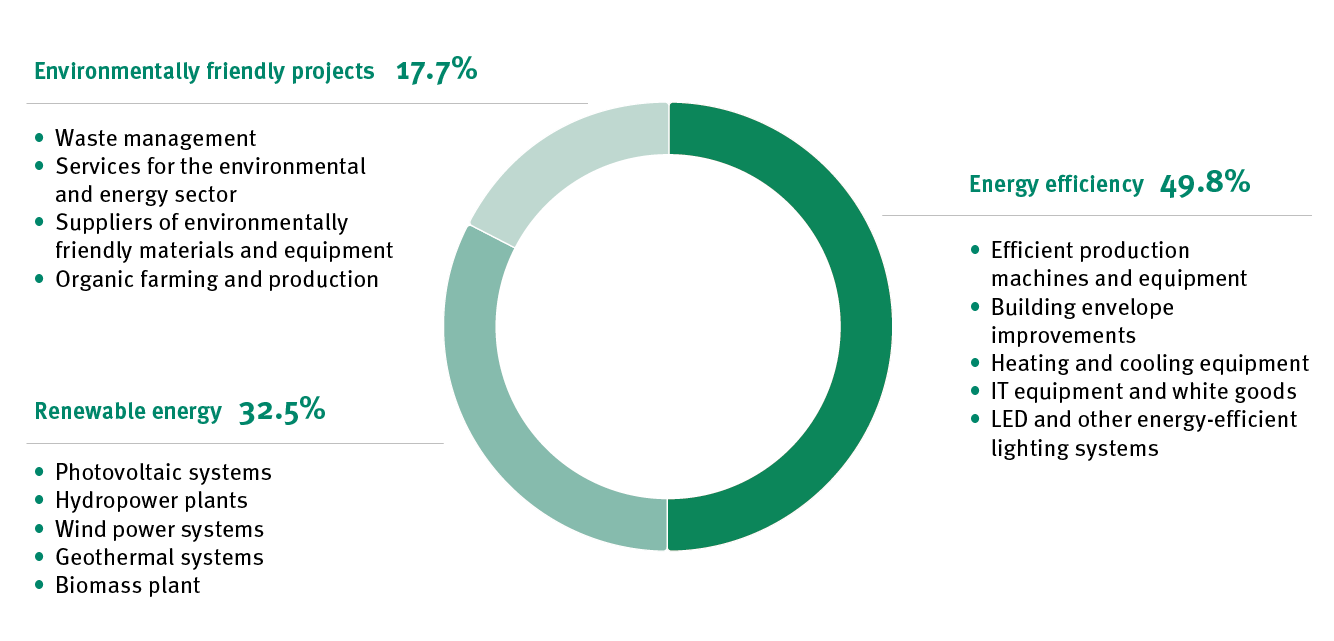 Note: As of 31 December 2022
With our accumulated in-house expertise, we are perceived as pioneers in the countries in which we operate and our banks have positioned themselves as the partner of choice for green loans. Close cooperation with our clients allows us to understand and support them in their businesses. And, by bringing environmentally concerned businesses together, we provide a forum for discussion, knowledge-sharing and the exchange of ideas and best practices among our client group.