About Quipu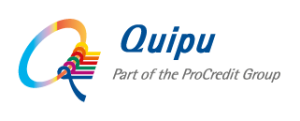 Quipu is the dedicated IT company of the ProCredit group and provides comprehensive end-to-end solutions for all ProCredit institutions. This includes everything from electronic payment services to software systems, hybrid cloud hosting, and a host of other operations.
A 100% subsidiary of ProCredit Holding, Quipu was established in March 2004 and is headquartered in Frankfurt am Main, Germany. Quipu plays a central role within the ProCredit group, providing a comprehensive range of support services that enable the ProCredit banks to become competitive and efficient. By taking advantage of these services, the ProCredit banks are well equipped to respond to the evolving demands of the banking industry and market in their respective countries of operation, in addition to meeting the demands of the regulators.
Quipu's mission is to empower all ProCredit institutions in their efforts to achieve their strategic objectives and fulfil their mission. Quipu does this by following a three-pillar approach:
Customised solutions – Quipu designs, develops and/or helps the ProCredit institutions select the IT solutions that are most suited to their business model and deploys these solutions in an efficient and effective manner
Top-notch support – Quipu provides excellent support services for the IT solutions it deploys by combining security, reliability and a cost-effective approach with a coherent and integrated user experience
End-user empowerment – Quipu enables the employees of the ProCredit group to extensively make use of its IT solutions and services by deploying self-service and automation capabilities as well as by fostering knowledge and skill enhancement through the delivery of group training programmes.
Working with Quipu
Quipu is an international company in every sense of the word, with operations in Latin America, Africa and South Eastern Europe. Its international character is also reflected in its staff, who represent 34 different nationalities.
Project implementation plans are designed in close consultation with the ProCredit banks. Built on the principles of transparency and realistic estimates, the plans outline each step in the process and define accurate deadlines.
Quipu professionals understand how technology can be used to create highly differentiated solutions that enable the banks and their customers to innovate and grow. All solutions provided by Quipu are scalable and flexible.
Security is a primary concern for Quipu. Considerable efforts have been made and significant resources have been invested in the development of activities and procedures to ensure the security and reliability of information, as well as to guarantee the confidentiality, integrity and availability of data.
For further details, please refer to www.quipu.de.
Quipu Head Office — Germany
Steubenhouse
Königsberger Straße 1
60487 Frankfurt am Main
tel.: +49 69 50 69 90 – 0
fax: +49 69 50 69 90 – 220
e-mail: quipu@quipu.de
web: www.quipu.de
Quipu Processing Centre — Germany
Steubenhouse
Königsberger Straße 1
60487 Frankfurt am Main
tel.: +49 69 50 69 90 – 0
fax: +49 69 50 69 90 – 220
e-mail: quipu@quipu.de
web: www.quipu.de
Quipu Personalisation Centre — Kosovo